---
Client Story: Cannon Technologies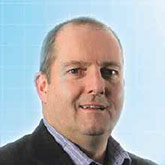 "Uptime Institute's TIER-Ready program is an important part of Cannon Technologies design methodology as our pre-validated designs enable our customers to benefit from a speedier and lower cost route to obtaining a Tier Certified data centre."
Matthew Goulding
Managing Director
Cannon Technologies Ltd.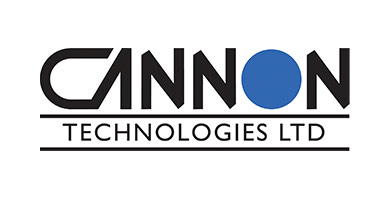 Cannon Technologies is a technology and manufacturing group that has been delivering best-in-class infrastructure and high-performance turnkey data centres to Governments, the Defence sector and blue chip organisations for forty-five years.
Cannon has adopted an agnostic approach to specifying a data centre project, enabling an unbiased approach to providing the most suitable technology for any project. The company offers over one-hundred Edge solutions from the company's vast portfolio of past projects and has equipped hundreds of mainstream data centres of widely varying scale and differing resilience levels.
Cannon is particularly proud of the Cannon "Globe Trotter – Soft Ride" data centre range, which was originally designed for NATO deployments, and now offers high level shock attenuation to 10g. This protection enables a live, fully operational, IT active, data centre to be shipped world-wide for Drop-Plug-Play advantages, including disaster recovery.
Cannon has been awarded prestigious awards from CV Magazine, Frost & Sullivan, Data Center Dynamics, BDO International, Green IT Awards, and CRN. Patents: Cannon holds over thirty patents and has been designing and delivering edge and core facilities throughout the company's history and long before the word "Edge" was brought into play.
Cannon has been awarded four TIER-Ready awards for its 100-kW, 250-kW, 500-kW and 1000-kW model. Cannon selected the Uptime Institute TIER-Ready pre-certification program as it provides a clear path to an independently pre-technically audited data centre facility. The certification ensures investors are protected from misleading designs which fails to provide resilience, putting investment in danger. Cannon's business development strategy focuses on educating financial investors and other constituents about the financial protection gained by the TIER-Ready program. Cannon wishes to rise above the smoke and mirrors that plague the industry in which questionable claims are made, putting unwitting investors in danger. Cannon's ongoing goal is then to acquaint project decision makers with the positive benefits and financial protection afforded by the TIER-Ready program.
Cannon is a rare player in this sector as the company is not a major component producer ( i.e., generator, panel, chiller), and is agnostic in behavior and as such helps decision makers to feel comfortable in their choices. Cannon is truly unrivalled in data hall/data centre experience.
Cannon works with all sectors of customers around the globe including classified governments - ministry of foreign affairs (Kingdom of Saudi Arabia, United Arab Emirates, Government Departments), Kennedy Space Centre USA, Niagara Casinos Canada, Duke University, USA; various UK universities; major international banks, national Telco's - BT, O2, Telephonica, Virgin, Italian PTT, France Telecom; Utilities - water authorities, electric and gas companies; Health sector - National Health; Defence Prime contractors - BAE , Leonardo, Vosper, BT, Babcock.
Cannon has developed a patented building construction system called "Cannon Matrix," an aerospace-type construction system the utilises multiple, high-strength, precision steel components that are self- jigging during assembly, reducing the need for a high-skilled work force on-site. These components are portable, without the need for heavy construction machinery or cranes for most processes.
This system dramatically reduces initial specifying and design as the core design aspects are already completed, offering simple configuration to meet customer requirements. Cannon Matrix provides for any size facility, from micro to macro multi megawatt, with no limits. Assembly is rapid and relatively unskilled, including raised floors, racks overhead raceway, aisle cocooning with aisle end doors and associated details. The raised floor system and plentiful overhead cabling space provides more space than container modules or similar big boxes and is assembled in parallel with progress of the building envelope.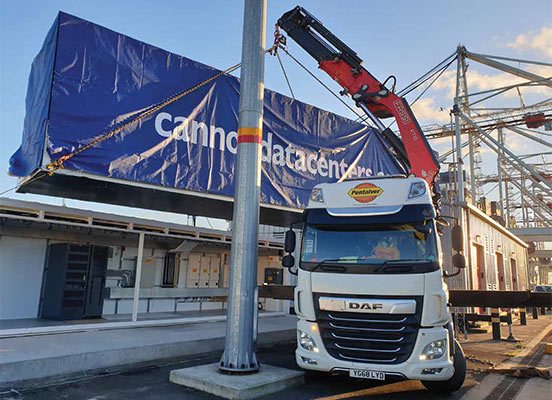 The system avoids the usual need for follow on trades, dramatically accelerating project completion and removing most of the project management pain often suffered. There are no wet trades, drying out, and no combustible materials, or dust generating materials. The resultant data halls are extremely hygienic, best in class facilities. Project management is greatly simplified due to the high degree of component integration.
The unique combination of the Cannon Matrix together with Pre-Certification by the Uptime Institute -TIER-Ready program, provides investors with unmatched predictability and financial protection.
Working with Uptime Institute: Cannon noted that it took a while to fully understand Uptime Institute's working process and now the interaction is very productive and straightforward.
TIER-Ready Awards by Model
Cannon Data Center Campus TRCHW100KW CDCC 100-kW Basis of Design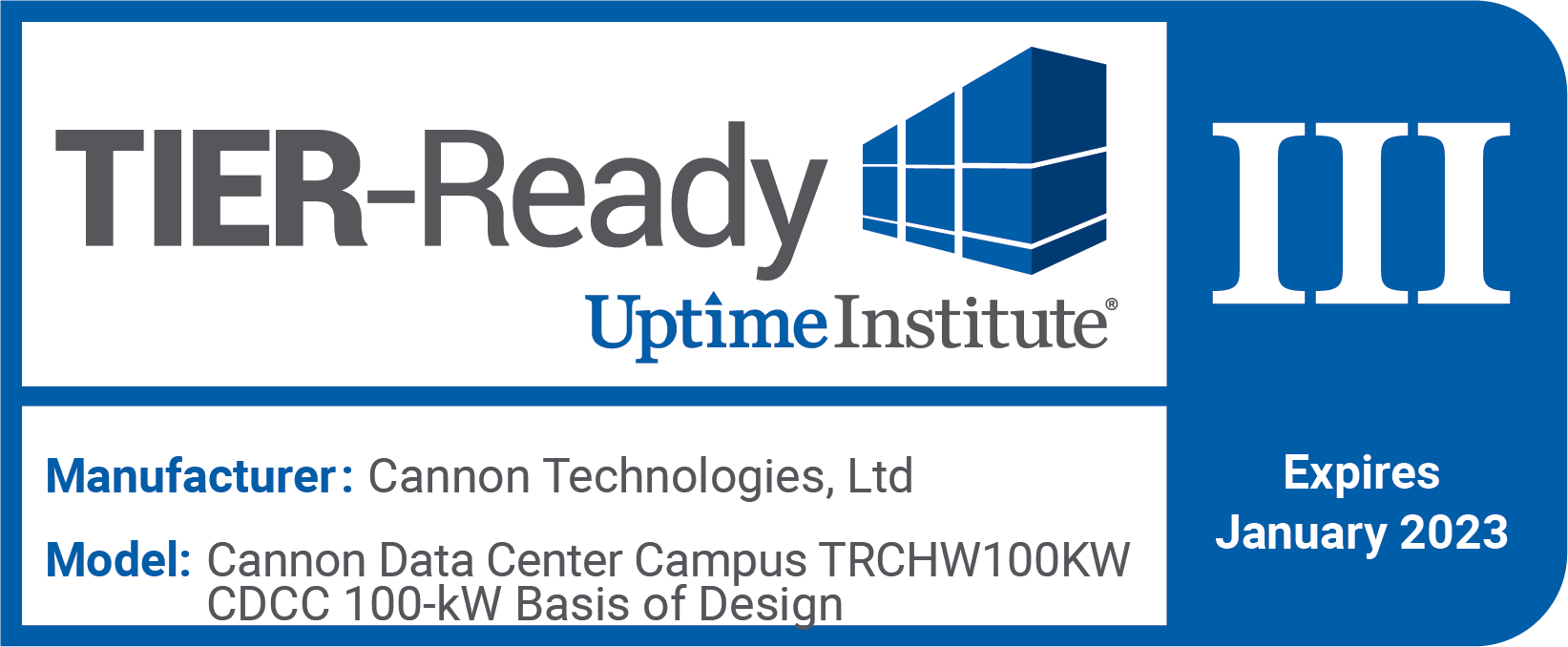 ---
Cannon Data Center Campus TRCHW250KW CDCC 250-kW Basis of Design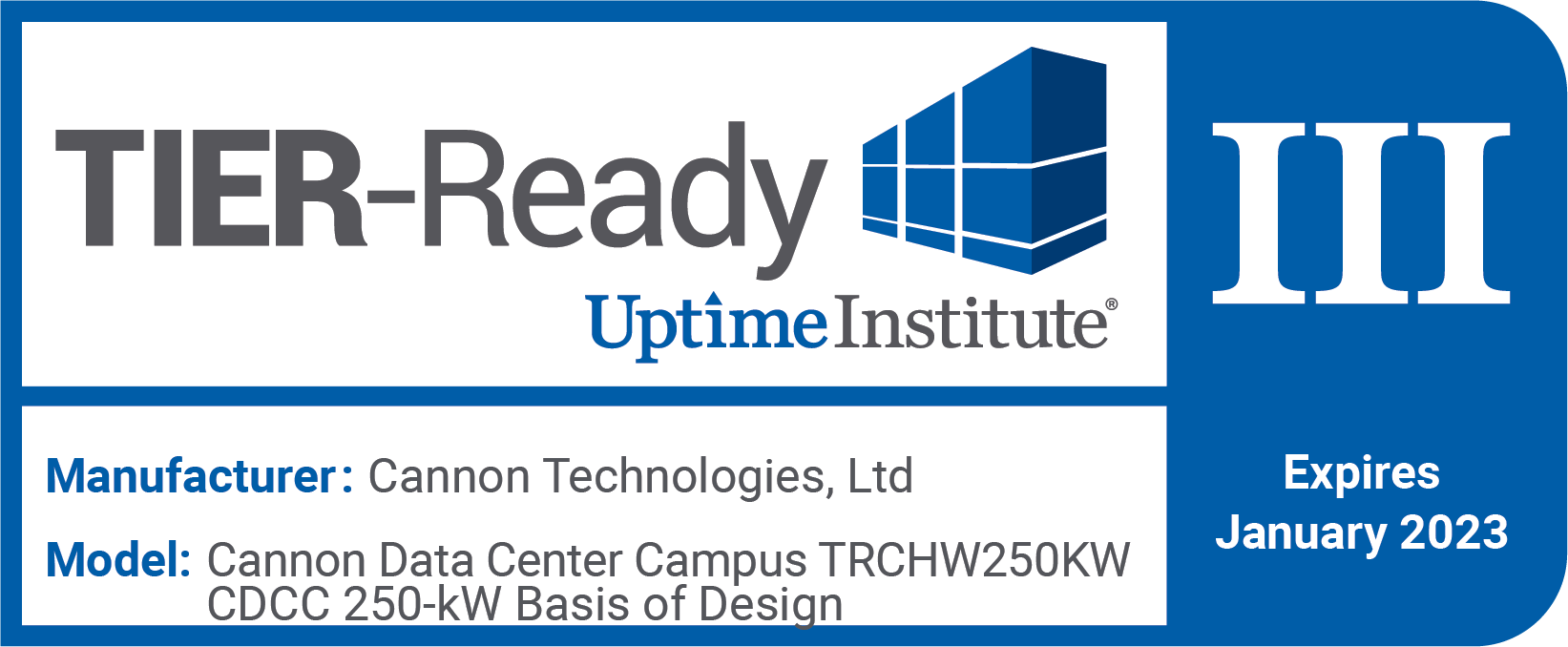 ---
Cannon Data Center Campus TRCHW500KW CDCC 500-kW Basis of Design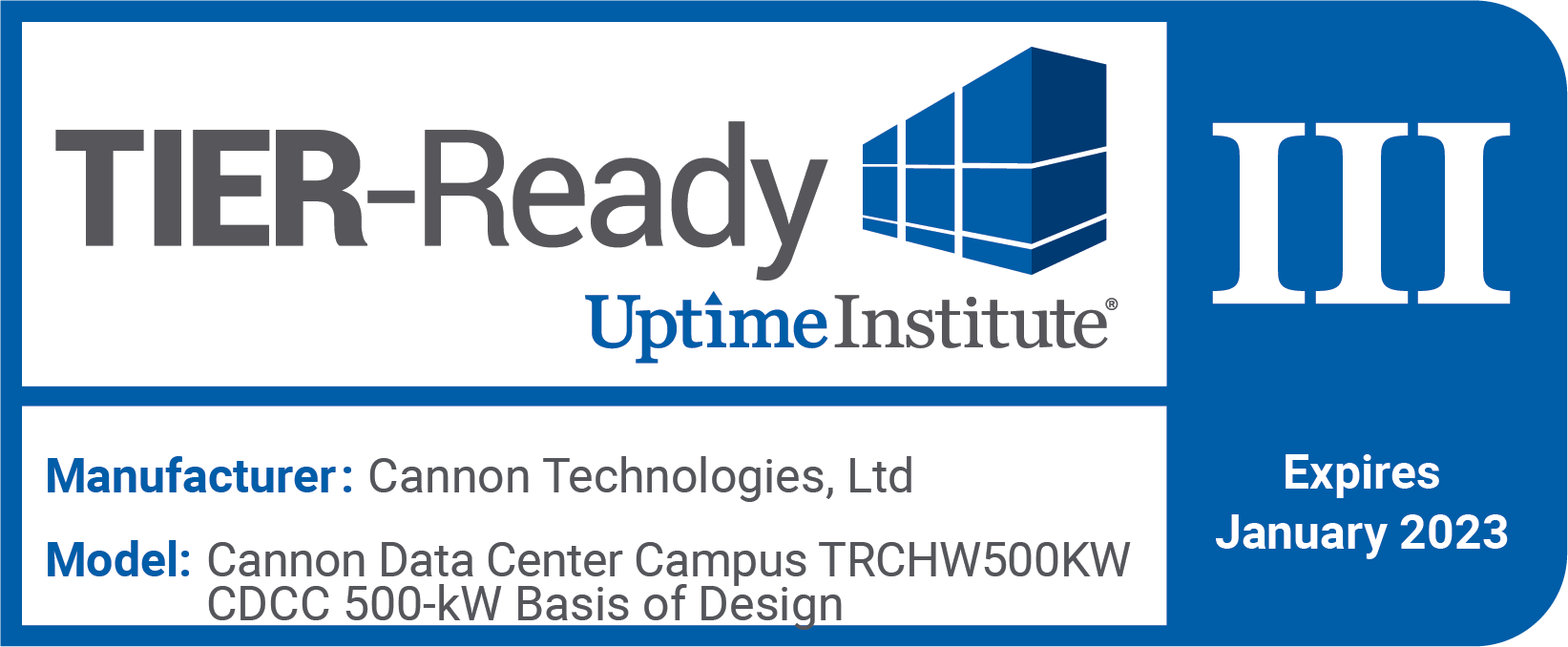 ---
Cannon Data Center Campus TRCHW1000KW CDCC 1,000-kW Basis of Design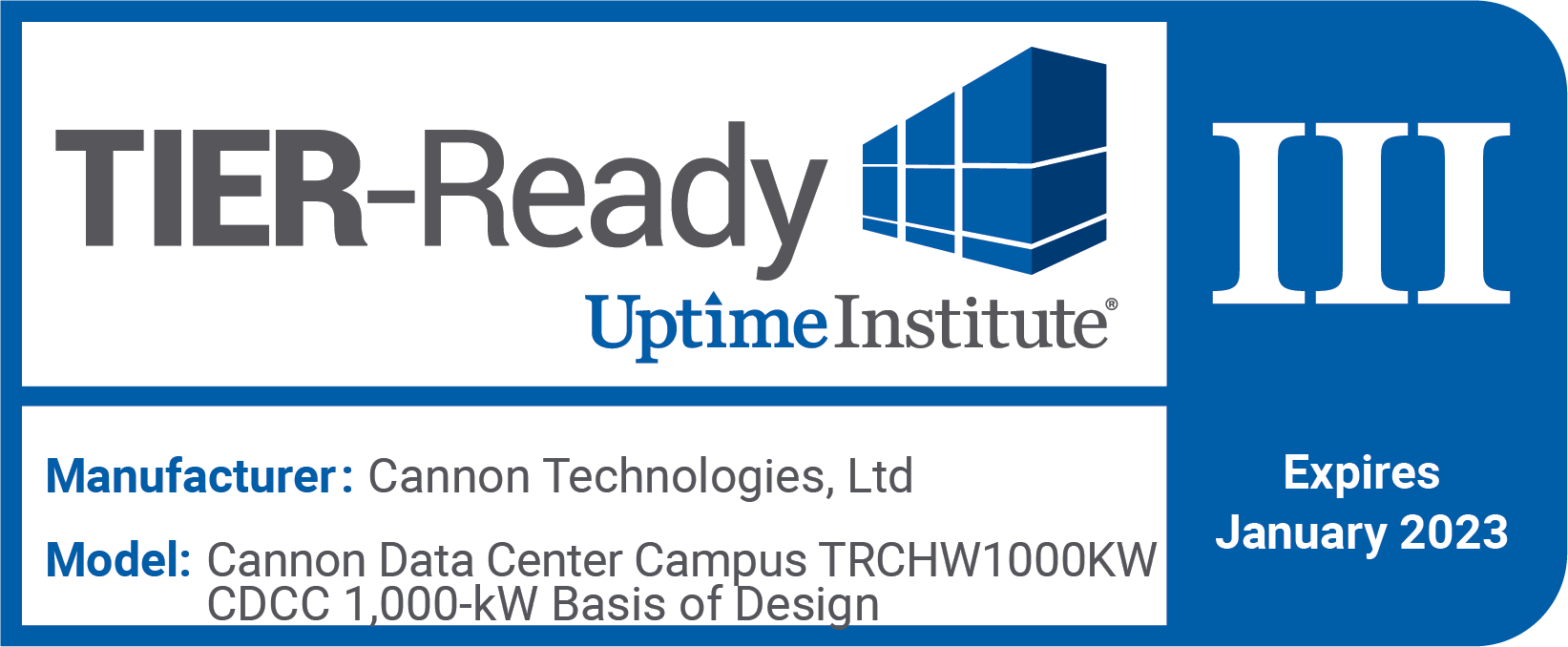 ---
---