---
Client Story: Telkomsigma, PT Sigma Cipta Caraka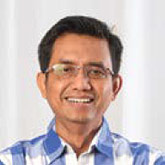 "Telkomsigma has a high appreciation for Uptime Institute as the global standard organization for awarding Telkomsigma with the first Tier IV Certification of Constructed Facility in Indonesia. This helps us to continuously improve our services and increase the trust our clients place upon us."
Iskriono Windiarjanto
Chief Executive Officer
Telkomsigma, PT Sigma Cipta Caraka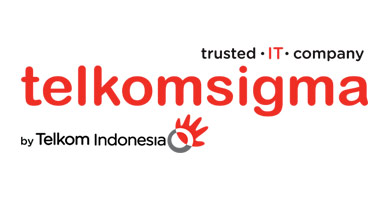 Telkomsigma 致力于提供全面的数据中心解决方案,为金融、银行、分销、电信等行业客户实现业务目标提供支持。The company has continued to illustrate continuous advancements to stay ahead in providing quality information and communications technology solutions, showing consistent growth year over year. The data center and managed services component was started in 1997.
Telkomsigma currently has three world class data centers in Indonesia located in Tangerang, Sentul West Java, and Surabaya-East Java. These are dedicated data center facilities for premium colocation, cloud solutions and managed services solutions.
Last year (2018) was marked by the expansion of data center facilities to maintain leadership position and remain the largest provider of data center services in Indonesia. As a core solution, expansion of the data center facilities also supports Telkomsigma's fast growing solutions like the Cloud Computing services, TelkomCloud. Telkomsigma also strives to continually add value to the "SDM" business portfolio; System Integration, Data Center Services and Managed Services (Cloud Computing) with a leadership role in the ICT industry, achieving above average revenue growth in the IT industry. Telkomsigma is provide of offering clients its seamless data centers that allow transparent connectivity between Telkomsigma data centers. The Telkomsigma data centers are also compatible with hyperscale computing and utilize green technology.
Achieving the Tier IV Constructed Facilities award from Uptime Institute strengthens Telkomsigma's position in the data center services industry. The company was able to carry out the audit with all clients in the "ON" condition, further proving the facilities from both a structural and infrastructure perspective.
Telkomsigma recognizes multiple benefits from achieving the Tier IV Certification of Constructed Facility award. The award helps the organization to gain additional trust from clients, particularly those in the banking and financial industries which demand high level of data security. The Surabaya data center was built to the specifications of the Uptime Institute global standard.
The Telkomsigma Data Center design was based on the most trusted and adopted global standard for the proper design, build and operation of data centers, Telkomsigma is now better able to compete globally and has gained the trust of more than 300 clients. The organization now has both local and international clients, and the Telkomsigma data center quality services are proven ready to provide for the demands of the international market.
The Telkomsigma team found widespread benefits to working with Uptime Institute. The organization found that they now have improved their high quality processes and procedures, and overall management and operations achieving the Tier III certification of Operational Sustainability. Telkomsigma can now bring to customers a higher level of Data Center operations through numerous improvements related to Data Center operational system needs, learnings and improvements in maintenance processes and procedures, along with monitoring, and illustrate how the Standard Operational Procedures (SOP) keep the Data Center operational systems running properly.
With Tier Certifications, Telkomsigma has seen some improvements with commissioning test processes, where the company sees additional attention to detail and better documentation in general.
The organization believes the team has learned that it takes focus along with full support from all management to achieve targeted goals for international standard data centers. The process of building a data center requires a well-planned strategy.
The organization found the Uptime Institute assessments challenging but saw their further improved processes made a difference, along with the learnings and knowledge gained from the of industry experts with on-site experience and in-depth knowledge from working with data centers across the globe.
Telkomsigma has made a commitment to provide 200,000 square meters capacity of data center spread throughout Indonesia ranging from Tier II to Tier IV certifications in order to achieve its goal to be the Preferred Digital Transformation Partner. Telkomsigma is now considered a global company working with clients from various industrial sectors in Indonesia and around the world including banking, financial institutions, transportation, tourism, media & communications, manufacturing & agribusiness, whole & retail, property & construction, energy resource, maritime & logistics, health & wellness, education, and government.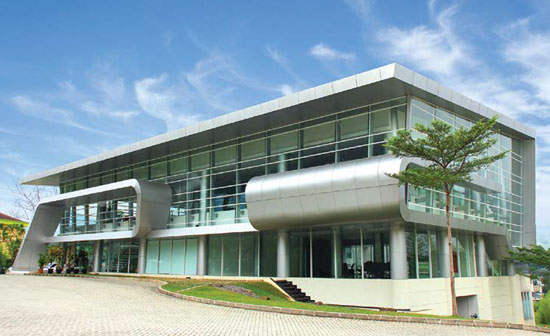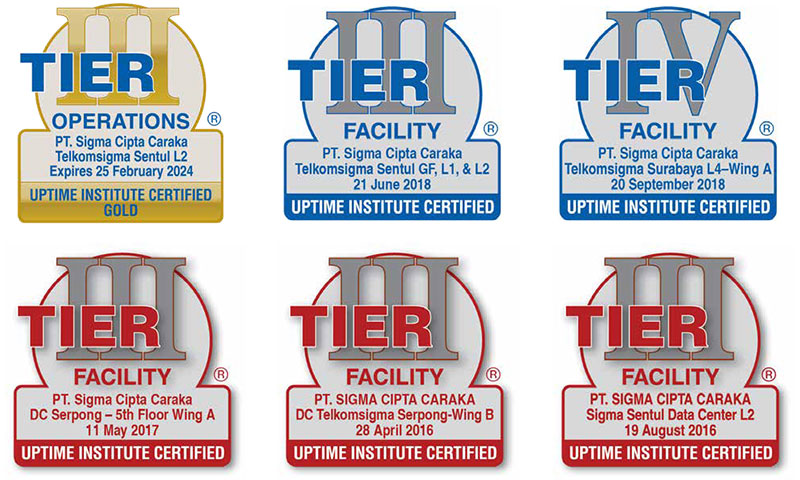 ---