Accredited Sustainability Advisor Roster
Congratulations to all Accredited Sustainability Advisor graduates.
The following information is intended to facilitate direct contact with data center sustainability professionals who have graduated from the Accredited Sustainability Advisor program.
For additional information on the Uptime Institute's sustainability offerings, visit the resources below: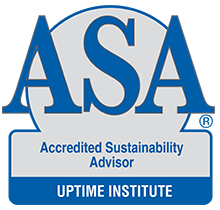 Individual foils are included in roster listing and can be seen by clicking "View Accreditation Foil"
Jump to country section by alphabet:
Chanaka Guruge
Critical Environmental Specialist
NEXTDC
Melbourne, Australia
chanaka.guruge@nextdc.com
查看认证标章
Luan Marcos
Senior Data Center Specialist
Green 4T
São Paulo, Brazil
luanbozzamarcos@gmail.com
查看认证标章
Andrea Corazza
Director, Critical Environments
RBC
Toronto, Canada
andrea.corazza@rbc.com
查看认证标章
Xiao Wang
Digital Development Specialist
The World Bank
丹麦哥本哈根
xiaowangdigitalenergy@gmail.com
查看认证标章
Yuen Yee Jenny Chan
Director
JCE Consulting Solutions Limited
香港
jchan@jcegroup.net
查看认证标章
Shivakumar Vaidyanathan
Global Offering Manager
Kyndryl
印度班加罗尔
shivakumar.vaidyanathan@kyndryl.com
查看认证标章
Evan Barker
Manager Facility Engineering
Digital Realty Trust
Dublin, Ireland
ebarker@digitalrealty.com
查看认证标章
Vincenzo Galfo
Data Center Facility Manager
Unicredit
Verona, Italy
vincenzogalfo@outlook.com
查看认证标章
Carlo Peroni
Data Center Manager
UniCredit S.p.A.
意大利
carlo.peroni@unicredit.eu
查看认证标章
Cristian Santi
Data Center Manager
Unicredit
Verona, Italy
cristian.santi@unicredit.eu
查看认证标章
Bahjat Al-Adwan
Data Center Hosting and Technical Facility Manager
Jordan Telecom Group - Orange Jordan
Amman, Jordan
bahjat.aladwan@orange.com
查看认证标章
J de Lange
IT Area lead Global Datacenters and Hosting
ING
荷兰阿姆斯特丹
jos.de.lange@ing.com
查看认证标章
Torkild Follaug
Sustainability Manager
Green Mountain
挪威斯塔万格
torkild.follaug@greenmountain.no
查看认证标章
Lek Heng Ngoh
Executive Manager
Infocomm Media Development Authority
新加坡
ngoh_lek_heng@imda.gov.sg
查看认证标章
Arvind Verma
Senior Assistant Director
Infocomm Media Development Authority
新加坡
arvind_verma@imda.gov.sg
查看认证标章
Giuseppe Leto
Global Portfolio Manager Data Center
Siemens
Zug, Switzerland
giuseppe.leto@siemens.com
查看认证标章
Nicholas Clinch
Head of Engineering & Maintenance
Nationwide Building Society
Swindon, England, United Kingdom
nick.clinch@nationwide.co.uk
查看认证标章
James Rix
Project Director
Arcadis
London, England, United Kingdom
james.rix@arcadis.com
查看认证标章
Dan Robinson
Data Centre Solutions Architect
Royal Bank of Canada Capital Markets
London, England, United Kingdom
dan.robinson@rbccm.com
查看认证标章
Bruce A Baginski
Operations Analyst
Kaiser Permanente
Silver Spring, MD United States
bruce.a.baginski@kp.org
查看认证标章
Peggy Burroughs
Strategic Program Manager
Intel Corporation
Portland, OR United States
peggy.e.burroughs@intel.com
查看认证标章
Daniel Canavan
Manager Real Estate Services
Mastercard
O'Fallon, MO United States
daniel.canavan@mastercard.com
查看认证标章
Rita Effio
Facilities Engineer I
UPS
Alpharetta, GA United States
ritaeffio@ups.com
查看认证标章
Marcus Hassen
VP - Mission Critical Services
Truist
Charlotte, NC United States
marcus.hassen@truist.com
查看认证标章
W. Scott Huffman
Principal Consultant
Sustainable Difference LLC
Denver, CO United States
wshuffman77@gmail.com
查看认证标章
David Johnson
Facilities Consultant
Optum Data Center Facilities
Minnesota, United States
David_Johnson1@optum.com
查看认证标章
Erik Lueders
Director of IT Sustainability
Mastercard
O'Fallon, MO United States
erik.lueders@mastercard.com
查看认证标章
Terry Luster
Senior Analyst Real Estate Services
Mastercard
O'Fallon, MO United States
terry.luster@mastercard.com
查看认证标章
Biljana Pavlovic
Technical program Manager, IT DC Sustainability Lead
Cisco
New York City, NY United States
bpavlovi@cisco.com
查看认证标章
Eric Ramirez
Facility Director
Kaiser Permanente
Napa, CA United States
eric.ramirez@kp.org
查看认证标章
Angela Taylor
Director and GM
Self-Employed
Folsom, CA United States
angela.k.taylor@intel.com
查看认证标章
---