Five data center predictions for 2022
---
The sector is booming and maturing globally — but management challenges lie ahead

In this report, Uptime Institute Intelligence looks beyond the obvious trends of 2022 — that the sector is thriving, building out to the edge and recovering and adapting to the pandemic — and identifies some potentially challenging issues.

Top issues for 2022 include sustainability reporting and the difficulty of achieving zero-carbon emissions, the uneven impacts of processor innovations, supply chain problems and the concentration risk of cloud computing.
Authors:
Andy Lawrence,Uptime Institute 研究执行总监

Rhonda Ascierto, Vice President of Research, Uptime Institute

Daniel Bizo, Research Director, Uptime Institute

Tomas Rahkonen, Research Director of Distributed Data Centers, Uptime Institute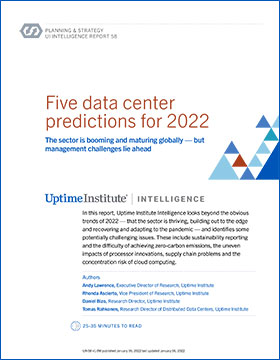 Download the Report
Fill out the form below to download the report.
---